Pressure Washing Oakville
Pressure washing Oakville provides a property or home on a regular basis is one of the most important preventative measures you can take to avoid long term damage. Our highly trained staff uses the right amount of pressure with the correct hot or cold water temperature depending on the material. In addition, they use only 100% non-toxic and biodegradable cleaning agents. Whether you are just wanting to give your home a new look or you're getting it ready for sale, give our team at Sunrise Window Cleaning a call and you will be surprised at how affordable it is to have a brand new looking home again.
Exterior Vinyl, Stucco, Aluminum, Brick Homes
[two_third]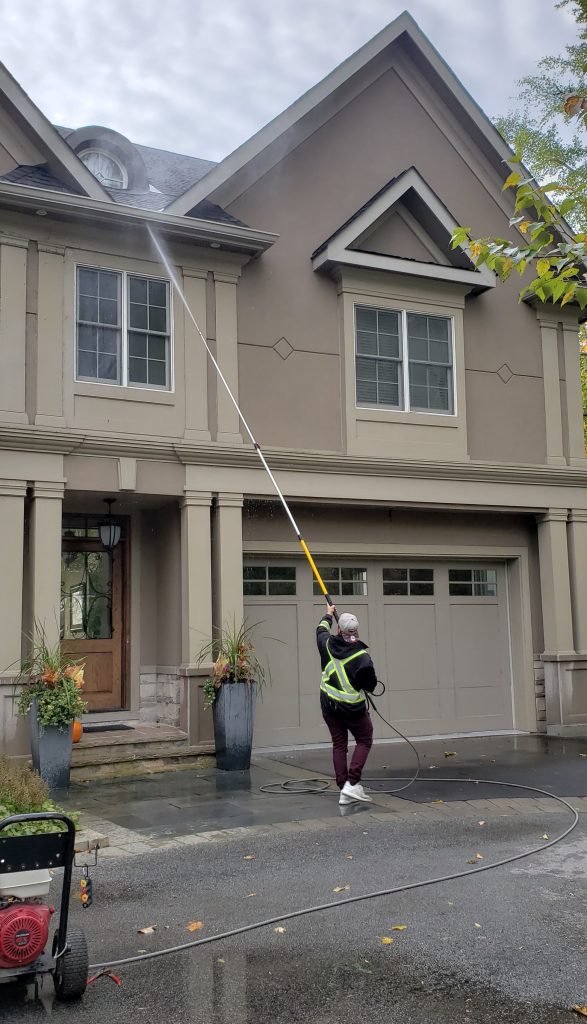 [/two_third] [one_third_last]We specializes in cleaning all vinyl, aluminum and stucco homes. We use 100% biodegradable chemical cleaning agents. First, we spray the surface and let the chemical agitate the surface for five to ten minute depending on the condition. Next, we wash it with the correct water temperature and just the right amount of pressure. We complete one area of the home at a time. Hand cleaning with pole & brushes is sometimes required. From walls to windows and decks to decorative trim, we ensure your home is looking new.[/one_third_last]
[divider]
Pool Areas and Patios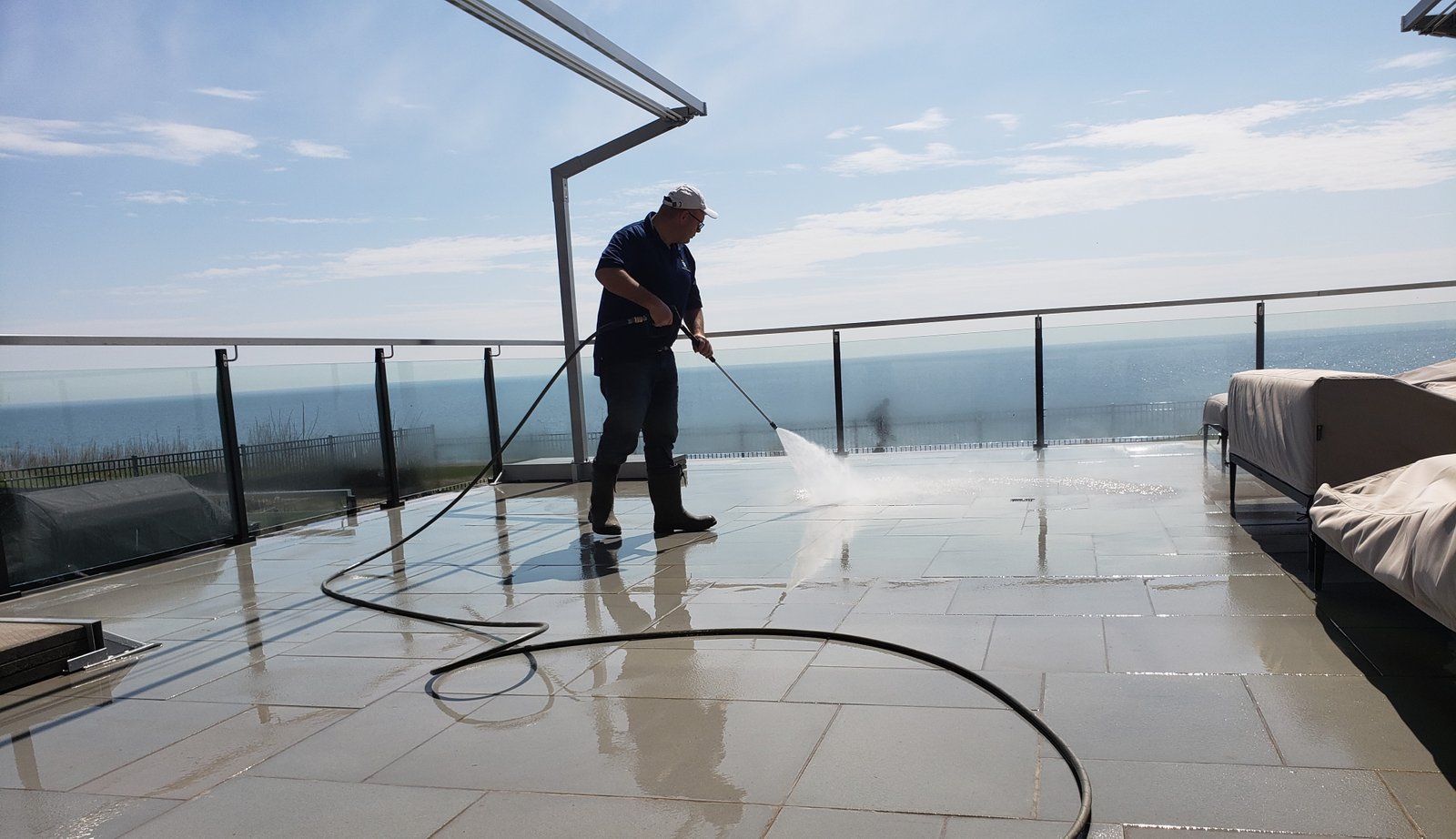 Driveways Pressure Washing Oakville
[one_fourth]There are many reasons people want to pressure wash their driveways. For instance, your neighbour may have just got it done and it looks amazing or maybe you just want to give your home a nice new curb appeal without spending thousands of dollars. Whatever the reason may be, no job is too big for our surface cleaners and top of the line equipment. Your driveway can be looking brand new within a day or two of calling. Furthermore, you can always request a quote from our website. You'd be surprised how affordable it is![/one_fourth] [three_fourth_last]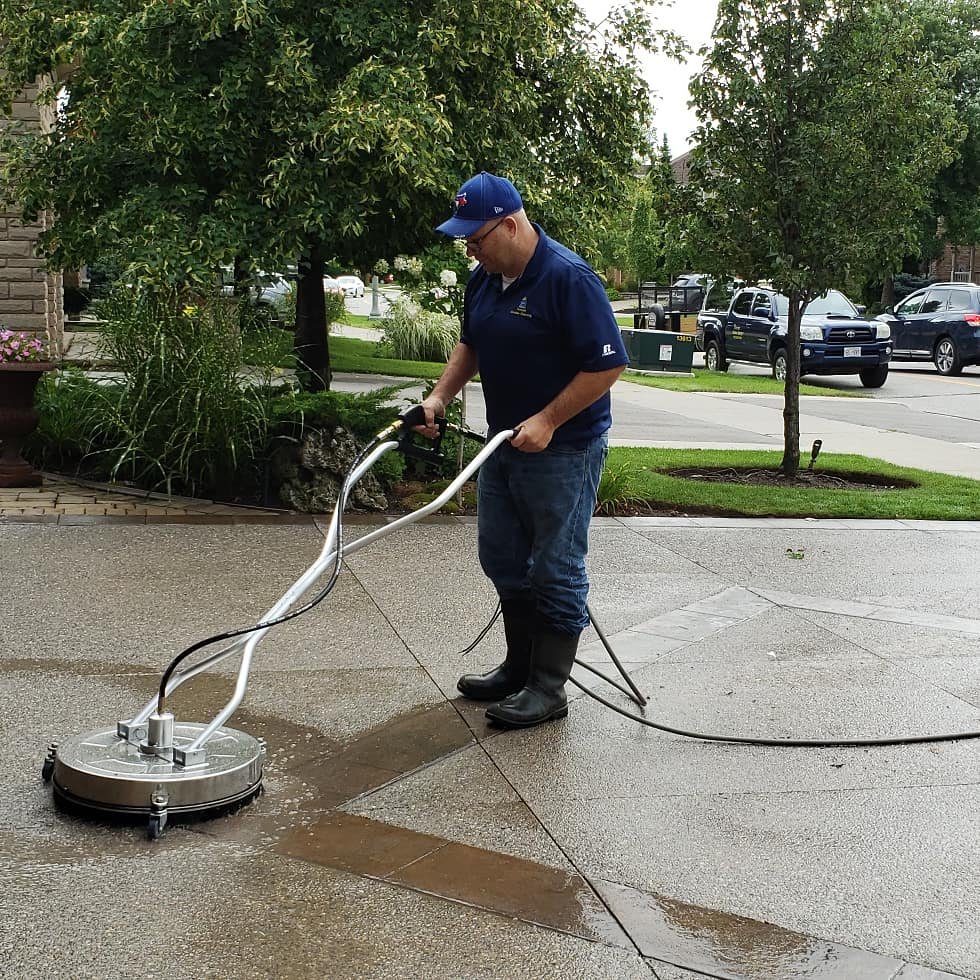 [/three_fourth_last]
Walkways/Sideways Cleaning

It is easy sometimes to forget about what often seem like "the little things" (like cleaning your walkways and sideways) that can pile up all around our houses, events, or businesses.
Let us bring  over ten years of experience power washing cement to the cleaning of your concrete.
We only use the best in concrete cleaning equipment and will bring our environmentally conscious cleaning methods to bear on your walkways and sidewalks. Contact us for pressure washing Oakville.
Fences
Whether you're prepping for painting or just looking for a fresh look. We have the proper methods for cleaning your wooden, aluminum, brick or metal fences.